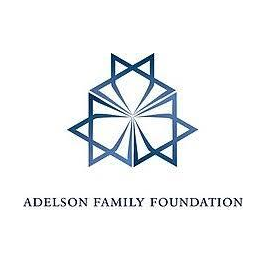 Adelson Family Foundation
PHILOSOPHY AND VISION
The Dr. Miriam and Sheldon G. Adelson Medical Research Foundation is a private foundation committed to a model of open and highly integrated collaboration among outstanding investigators who participate in goal-directed basic and clinical research to prevent, reduce or eliminate disabling and life-threatening illness.
Dr. Miriam Adelson earned her BSc in microbiology and genetics at the Hebrew University of Jerusalem before pursuing medical studies at Tel Aviv University's Sackler Faculty of Medicine, where she graduated with an MD magna cum laude.
Today, a dedicated research-physician, Dr. Adelson specializes in internal and emergency medicine and is a former head physician in each of these areas at the Rokach (Hadassah) Hospital in Tel Aviv. Since 1986, she has devoted her time to researching and treating drug abuse and the biology of addiction, including establishing drug clinics in Las Vegas and Tel Aviv.
Sheldon G. Adelson is Chairman of the Board and CEO, and principal owner of the Las Vegas Sands Corporation. He has had a six-decade career in the US and Asia as an entrepreneur and venture capitalist. He owned his first business by the time he was 12, and in the years that followed he worked as a mortgage broker, investment adviser and finance consultant.
Mr. Adelson has created and developed more than 50 different companies, among them Comdex, the world's largest trade show for the computer industry.
Miriam and Sheldon Adelson are well-known in the philanthropic world for their extensive support of Jewish and other causes throughout the US and Israel and are major benefactors of Yad Vashem, The Holocaust Martyrs and Heroes Remembrance Authority and the Birthright Israel Foundation. The Adelsons fund medical research in the areas of neurology, immunology and oncology through a groundbreaking and innovative collaborative research model. The Adelsons reside in Las Vegas, Nevada.