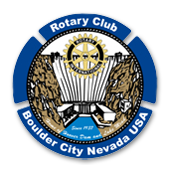 Rotary Club of Boulder City
For more than 77 years, the Rotarians of our club have provided both financial and volunteer assistance to the Boulder City community and its organizations, as well as supporting the projects of Rotary International throughout the world.
Having been chartered in 1937, the Rotary Club of Boulder City is not only the oldest club in Boulder City, but one of the oldest clubs in the entire Southwest.
Often referred to as "Noon Rotary" due to our regularly weekly meeting time, our club is proud to be one of two Rotary clubs in Boulder City and we look forward to working with our sister club, Sunrise Rotary, to make Boulder City an even better place to live. In addition to our noon meeting time, we also have an evening meeting now offered and have enjoyed expanding our club with amazing professionals ready to give of their time and service.
On Memorial Day of 2015, our primary fundraiser – the Best Dam Barbecue Challenge – will celebrate its eleventh year and we look forward to raising even more money in support of programs such as "Every 15 Minutes" at Boulder City High School, mini-grants for local schools, literacy and clean water projects in developing nations and the fight to eradicate polio worldwide.